---
---
---
---
Equipment
Ten Karakumidai without bobbins are available for rental at 1000 yen per day. Students may bring 48 bobbins for two Hishi and 144 for circular Karakumi. EZ-bobbins are acceptable.
---
Materials Fee
2000 yen for karakumi silk threads.
---
What to bring
A scissor and tools of writing.
---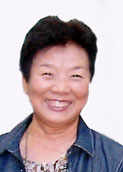 Sugayo Tanaka
---
Edna Gibson
---
Students
Beverly Bills
Dominique Brocard
Roderick Byatt
Leslie Carroll-Bartlett
Yoshiko Kawaguchi
Akemi Kitamura
Nobuko Kurahashi
Reiko Nakamura
Stephen Pretty
Marjorie Quinn


(full)
Third day, we will reserch into a possibility of Kumihimo using Karakumidai and try circular technique.
| | |
| --- | --- |
| Sugayo Tanaka | Osaka, Japan |
I started to learn Kumihimo at Sai Kumihimo School in 1980 and began to work with Ayatakedai in 1981 and Takadai in 1982. It was in 1994 that I started Karakumi and since then my major works have been made with Karakumi and Takadai.
Exhibition of Japanese and Andean Braids 2000 Tokyo
Kumihimo Works of Three Exhibition 2002 Tokyo
Kumihimo Works of Three Exhibition 2004 Osaka
Exhibition of Japanese and Andean Braids 2005 Tokyo
Edna Gibson was born in London where her interest in textiles began. As a child she knitted, crocheted and sewed her dollÕs dresses. This interest stayed with her and when in a boring desk job she gave herself a 5 year plan to become self sufficient during which time she learnt to spin and weave. Edna began teaching textile techniques to adults some 30 years ago, but her interest is now mainly knitting design and braiding. She now lives in Plymouth, UK and travels the country giving talks and workshops.

While working on the C&G Textile course she became involved in braiding after seeing Rodrick OwenÕs slides of his braids at her local Guild meeting and was totally captivated. For her exam piece she braided a hanging bird table. She has studied kumihimo under Rodrick Owen in the UK and Makiko Tada in Japan. She also has a teaching certificate from the Japanese Temari Society. She has exhibited her braiding and embroidery in the UK, Tokyo and France.
Traditional pattern with handspun silk
Free design