---
---
---
---
Equipment
Ten Takadai with bobbins are available for rental at 1000 yen per day.
---
Materials Fee
3200 yen for silk and 1600 yen for sinon. If you prefer using other threads such as cotton or wool, please carry them on in two to four colors and in a sufficient length.
---
What to bring
A scissor and tools of writing.
---
Hiroko Ojima
---
Masako Kishimoto
---
---
Students
Trish Goodfield
Michael Hattori
Vanessa Hurran
Akemi KItamura
Noriko Komatsu
Naomi Konishi
Nobuko Kurahashi
Kayo Ozaki
Haruno Tanaka
Helen Vonow

(10 of 10)
---
Another Takadai beginner class is provided. See T14.
This class is just for Takadai biginners.Students will learn from setting therads to basic braiding techniques such as Anda-gumi and Niken-gumi.
| | |
| --- | --- |
| Hiroko Ojima | Kochi, Japan |
I started to learn Kumihimo at Seijyu Kumihimo School in 1977 and exhibit my works at crafts exhibitions in and outside of Kochi Pref. in 1980. Introduction of Washi, a traditional Japanese paper and a special product of Kochi, to Kumihimo was made in 1990 as well as other materials such as wire and acryl fiber. I prefer using Washi. These works were awarded three times in the Exhibitions of Japan Taditional Art Crafts, five times in Kochi Art Exhibition, four times in Kochi Wimen's Arts and Crafts Exhibition and five times in the Exhibition of Shikoku Arts and Crafts.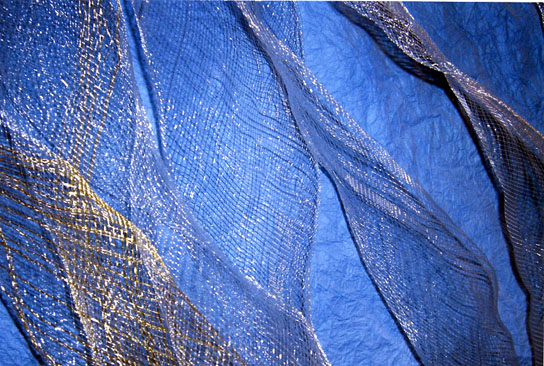 | | |
| --- | --- |
| Masako Kishimoto | Osaka, Japan |
Among handicrafts I loved, the most suited to me is Kumihimo, with which I have been working for 30 years. Marudai and Takadai are my favorite techniques.
Exhibition of Japanese and Andean Braids 2000 Tokyo
Kumihimo Works of Three Exhibition 2002 Tokyo
Kumihimo Works of Three Exhibition 2004 Osaka
Exhibition of Japanese and Andean Braids 2005 Tokyo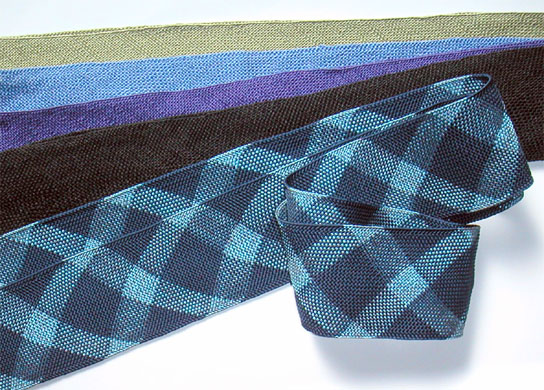 | | |
| --- | --- |
| Richard Sutherland | San Francisco, USA |
Born: Detroit, Michigan, 1934- .Education: Michigan State University (B.A. art history), University of Michigan (M.A. studio art), University of California, Berkeley (M.L.S. information science). Professional life: Foothill College, Los Altos Hills, CA., Instruction Librarian, 1967-1995;† Fine Arts Museums of San Francisco [de Young Museum], Acting Librarian, 2002-present.

Kumihimo: Began instruction in 1995 with Rodrick Owen, attending his annual U.S. workshops each year to date. Additional workshops from Makiko Tada (takadai, karakumidai), and private instruction from Yayoi Miura, Tamaki Hirata. Primary focus has been on takadai braiding. Publication: Takadai Rep Braids:  Loom-braided Turban Structures (WeaversHand, 2005). Exhibition/workshop coordinator: Cherry Blossom Festival (San Francisco, 2001) - three distinguished Tokyo artists (Tamaki Hirata, Yayoi Miura, Makiko Tada) presented recent work and conducted a week-long teaching session.