---
---
---
---
Equipment
Ten Takadai with bobbins are available for rental at 1000 yen per day.
---
Materials Fee
3200 yen for silk and 1600 yen for sinon. If you prefer using other threads such as cotton or wool, please carry them on in two to four colors and in a sufficient length
---
What to bring
A scissor and tools of writing.
---
Author's book 2003
---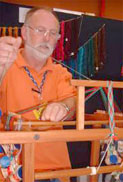 ---
Students
Trish Goodfield
Michiko Katsuhara
Shigei Mizobuchi
Kayo Ozaki
None Redmond
Debbie Richardson
Haruno Tanaka
Seiko Tochihara
Mitusu Ui
Anne Whitehead


(full)
This class is for advanced Takadai braiders. Students will learn the bobbin switching technique, so-called Hikkake technique as used in Itsukushima-gumi, making it possible to create unique patterns.
| | |
| --- | --- |
| Leigh Morris | Tauranga, New Zealand |
In 1980, in Australia, I began handspinning and knitting and I still continue to enjoy learning about fibres and yarns. In 1989 I was awarded the Handweavers Guild of America's, Certificate of Excellence in Handspinning. I wrote and published a book on handspinning, The Handspinner's Companion in 1994. This book is still in print and is used in Australia and New Zealand as a core text in Advanced Spinning Courses.

My wife and I moved to New Zealand in 1994. In 1995, I completed a Certificate in Adult Teaching, at the Bay of Plenty Polytechnic. I have taught handspinning, dyeing, knitting and braiding in Australia and New Zealand since 1989. I have also tutored at World Congress of Coloured sheep, in U.S.A. and Australia. My spinning and knitting has been accepted for juried exhibitions in Australia, New Zealand and the United States of America.

In 1999 I began Kumihimo braiding on the Marudai. I built the first Takadai in New Zealand in 2001. The pattern possibilities of single layer braids on the Takadai holds a special fascination for me. My extensive sampling and experimenting with this has lead to the publication of 4 Monographs on Takadai braiding.
---